You were in a collision with a truck or other motor vehicles?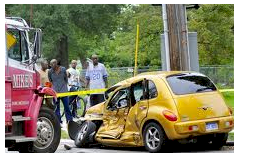 Each year thousands of American households encounter an awful experience: they lose a loved one due to negligent and irresponsible acts of companies or individuals. This heart breaking event is the result of an accident that led to loss of life from a fatigued truck driver that was pushing himself to meet a delivery schedule, or a drunk driver (DUI/DWI) reckless behavior, or a new driver racing in a residential area without care for the lives of pedestrians. The incident ended with the loss of life, a wrongful death of someone's parent, or spouse, or their child.
Sellers Law Firm is very sympathetic to the plight of a family who has lost their loved ones to a negligent act and we work hard to bring justice to those that are liable for the fatal accident. We pursue both compensation as well as punitive damages where there is willful or gross negligence.
A wrongful death lawsuit will not replace a loved one, but it will ensure that those who were irresponsible are potentially prevented from continuing negligent behavior without being put on notice. Over the past 40+ years, Mr. James Sellers and his legal team have worked hard to defend the rights of those families that need closure by securing a befitting punishment of gross negligence.
Mr. Sellers is a highly experienced attorney, with more than 40 years practicing law, in wrongful death cases involving bus accidents, truck accidents and drunk driver accidents. Mr. Sellers has appeared on KOIN News Channel:
If you have lost a loved one, you may be entitled to compensation for:

Funeral and burial expenses

Mental anguish

Pain and suffering

Lost wages

Loss of companionship

Punitive damages

Medical expenses

Other expenses
We can help. Contact Mr. Sellers today for a free no-obligation case evaluation. How can we help?