Don't Fight An Insurance Company Alone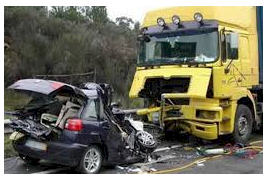 Mr. Sellers has handled literally thousands of injury cases over a long and distinguished career of more than 40+ years. He can help you protect your rights and get the maximum compensation your deserve. Insurance companies have teams of lawyers to pay out as little as possible to keep their profits as high as possible. Don't settle with an insurance company until you talk to Jim Sellers. He will conduct the negotiations for maximum compensation while you focus on healing. If you've been injured in a car or truck or other motor vehicle accident or any type of transportation accident, we can help you fight against negligent drivers and insurance companies who try to pay you as little as possible.
If you have been in an accident, we strongly encourage you to contact our offices at your earliest convenience. The sooner we represent you, the more likely we will be able to recover the highest possible compensation. Call right away to allow our law firm the opportunity to gather evidence, review the police report (if any), and speak on your behalf with police, insurance claims adjusters and anyone else who is instrumental in processing of your claim and winning damages.
At Sellers Law Firm, we have more than 40+ years of experience needed to act quickly and to act wisely on behalf of our clients in the hours, days and weeks after an accident. We fight for your rights and represent you in a personal injury claim or lawsuit after your accident. We negotiate hard and tough to get you a complete and fair settlement, as quickly as possible.
The costs of an injury amount to more than just the medical expenses and lost wages. There could be that long term care is needed, and that some injuries (such as head or back injuries) take time to surface sometimes. Before settling quickly, you may want to consider that you may be entitled to more compensation, certainly to cover your future loss of income, long term care expenses, pain and suffering, and may be others.  If you expect an insurance company to volunteer to pay you the full amount of a fair compensation right away, then you will be disappointed.
Instead of accepting the first low-ball offer from an insurance company, simply appoint an experienced personal injury lawyer to negotiate on your behalf for full compensation that you may be entitled to. An experienced personal injury attorney can sometimes get you 200% to 300% what an insurance company will offer you initially. Instead of accepting the first offer you receive from an insurance company, allow us to avoid the hassle of evaluating a claim offer and negotiating directly with the insurance company.
Mr. Sellers is a highly experienced attorney, with more than 40 years practicing law, in wrongful death cases involving bus accidents, truck accidents and drunk driver accidents. Mr. Sellers has appeared on KOIN News Channel:
If you have an experienced personal injury attorney to represent you, it can make all the difference in the final settlement amount for your claim. Don't make the mistake for settling for a low amount which is far less than what you deserve. You don't need the stress and the hassle of dealing with an insurance company and negotiating with their experts who are hired just to find a way to lower your compensation. If you hire Mr. Sellers to represent you in your claim, you will be confident that you are getting the most compensation for your injury claim.

We get paid only when we win or settle your case

There is no obligation to talk to Mr. Sellers and there is no hidden or upfront fees/costs to retain our legal services

Mr. Sellers is highly experienced and he works with highly effective staff

You will never receive a bill from us unless we have won your case or settled

Mr. Sellers has helped literally thousands of injured victims of personal injury cases

Mr. Sellers has recovered millions in compensation for our clients

All your questions are answered with outmost confidentiality