Car and Truck Accident Injury
Frequently, I have clients who are in a second auto or truck accident when they are already under treatment for an earlier accident. Occasionally, one of these clients will go in for a treatment for the first auto accident and neglect to tell the doctor about the second auto accident, or wait a month or two before mentioning the second auto accident to the doctor. The patient might have failed to tell the doctor about the second car accident because the patient didn't think the second car accident amounted to much, or because the patient was at fault for the second collision.
A word of advise is that if you have a personal injury claim, do not settle the claim until the extent of your personal injury is known and the condition of your injury has stabilized. It is usually best to wait until you are finished treating.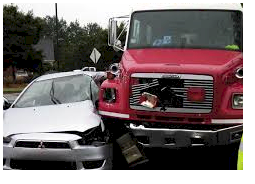 Your doctor and/or your chiropractor needs to know about any event that might relate to the area of the body being treated. The doctor is going to look pretty stupid if the doctor's chart notes do not contemporaneously reflect knowledge about a second personal injury to the same area of the body, which occurred during the treatment for the first car or truck accident. If this happens, the impression will be firmly established that the patient is either hiding something, or that there was no personal injury in the second auto accident, which may turn out to not be the case. Therefore, the rule is that if some event happens while you are under treatment, which causes pain or discomfort of any kind, you need to tell the doctor about it the very next time you go in for a treatment.
Injury from an accident can be tricky
There are a few essential things to keep in mind, which involve being represented for an accident injury attorney. Right after an accident, a good insurance adjuster for the at-fault driver will immediately go out and take photos, and get witness statements. Insurance adjusters are trained to make a record and preserve evidence. They often have recorded statements from everyone involved, including you. I cannot tell you how many times I have had an injury accident case come in where the other insurance adjuster took pictures of my client's car, which was rear-ended but not damaged much, and yet no one seems to have any pictures of the car that did the rear-ending, which was totaled. Your own insurance company invariably doesn't take those photos because they don't feel they have to build a case, since you were not at fault.
There is no ruder surprise than to settle a personal injury claim with an insurance adjuster and find out later that you needed more treatment at a greater expense than you first thought when you settled.
Avoid being taken advantage of by Claims Adjusters of the at-fault insurance company
That might do just fine in meeting your insurance company's needs, but it can turn into a real big problem in the presentation of your personal injury claim against the at-fault party, where the amount of damage to the car is perceived as being very important. So unless you have an experienced personal injury attorney working for you as soon as possible, who knows what they are doing, you might find yourself at quite a disadvantage when it comes time to resolve the claim you have to make.
There is not a window of time of unlimited width to marshal evidence for your personal injury claim; these things do not just take care of themselves, and you generally cannot trust your own insurance company to take care of it for you. Your insurance company is only going to find out enough to avoid paying on a personal injury claim. Your insurer is not going to gather the evidence necessary for the presentation of your personal injury claim against another driver. It is evidence that could very well disappear over time.
The best way to avoid that happening is to retain an experienced personal injury attorney. Virtually all injury accident attorneys who do that kind of work await payment for their services from the settlement of the injury accident claim.
Far too often these matters look very simple until the other insurance carrier wants to settle with you for an unbelievably low sum of money, for reasons that are inexplicable. In these circumstances, it is often the other carrier who is holding all of the cards unless you have also had a skilled personal injury attorney working on your case. People often take it for granted that their injury accident claim will be resolved with the at-fault carrier in a way that is logical. However, your best chance for a fair outcome is to have an accident injury lawyer doing for you what the other insurance company is doing for itself if you want to avoid being taken advantage of. Even if you have had an experienced injury accident attorney looking after your case, some insurance carriers will invariably attempt to take advantage of you anyway. How well the presentation of your personal injury claim has been looked after may well determine whether they can get away with it or not.
We work hard to protect your rights and get you the maximum compensation you deserve.
If you were injured in a trucking accident, you can call me at (360) 695-0464 for a no-obligation consultation. Let us help you protect your rights and get the compensation you deserve.