Washington State Drunk Driver Caused Accidents
Sellers Law Firm provides representation and assistance for people hit by a drunk driver, disabled or injured in a drunk driver accident, and for the families of people killed by a drunk driver in Washington State. We are located in Vancouver Washington and are devoted to representing victims of drunk driving.
In 2012, nearly 150 people died in fatal accidents in Washington State as a result of reckless driving by drunk drivers. Among the fatalities, there were 16 people under the age of 21. This could have been drastically higher if the State Troopers had not arrested more than 30,000 individuals driving while intoxicated, with about 70% driving under the influence above the high BAC levels of 0.15% (state limits are set for 0.08 for adult 21 or older, and 0.02 for those under 21). At high BAC levels of 0.15 (almost twice the limit), a drunk driver is clearly impaired and endrangering the public by driving on public roads.
A car accident or a truck accident involving a drunk driver is different from other accidents because drunk driving is against the law and it is preventable. Sometimes other accidents can't be helped, but a drunk driver accident or a drunk driver wrongful death could have been prevented . . . if only the person had obeyed the Washington State laws against drinking and driving.
Washington State Drunk Driver Accident Lawyers Representing Victims of Drunk Driving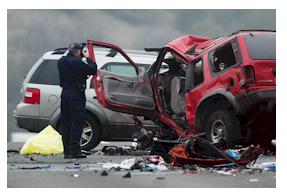 Sellers Law Firm can help answer your questions about Washington drunk driver accidents, and can help you understand your rights and the process of pursuing compensation for your property damage, injuries, pain, suffering, lost wages, medical expenses after an accident. The case against the drunk driver is for financial compensation, but the local authorities may also bring criminal charges that includes the possibility of a jail term which may or may not affect compensation paid to you depending on whether the drunk driver has insurance or not.
If you or someone you love have been injured or killed in a Washington State drunk driver accident, you may have certain rights to compensation or to recover expenses for injuries, property damage, lost wages, medical bills, brain injury, disability, or the death of a family member. Sellers Law Office may be able to offer legal assistance and help protect your rights in the event of a Washington State drunk driver accident.
Often after an accident, insurance adjusters or attorneys representing the drunk driver may start calling you to try to get you to waive (give up) your rights or make a settlement. Please keep in mind that they do NOT have your best interests at heart. Therefore, it is very important in the event of a drunk driver accident that your interests are represented and your rights are protected by an experienced attorney to get you maximum compensation for your injuries.
For more than 40+ years Jim Sellers has been helping residents of Washington State with car accidents, truck accidents, DUI/DWI accidents, wrongful death cases, as well as other personal injury legal representation and we are available to help you, too. Please contact us to find out we can help with your specific case and claims for compensation.
Washington State Drunk Driver Accident/Injury Claim
Being the victim of a drunk driving accident can turn your life upside down, and even worse is when you lose a loved one in an accident caused by a drunk driver (wrongful death). We can help with all your questions ...

Who would you call for legal assistance?

Who will pay for the x-rays, medical bills, lab tests, and any necessary prescriptions, therapy, extended treatments or chiropractic treatments?

Who will pay for the damage to your vehicle or, repair it, to replace your vehicle?

What happens when you miss work, and who takes care of your bills while you are unable to work?

What if there are serious injuries which result in long term disability? Who pays for medical bills and living expenses?

What if there are soft issue injuries that you discover only later?

What if someone passed away? What happens then? Who pays for funeral costs? Who pays for the living expenses of spouse and children?

Who investigates the accident and were there any witnesses to the accident and who records their information for future contact?

Is there a police record and did police show up on the scene of the accident and did they do a roadside test to see if the driver was drunk?

Was the drunk driver taken to jail? What did the police report say?

Since drunken driving is a crime in Washington State, where the driver prosecuted? Was he convicted?

If the driver goes to jail, will he or she still pay for your medical expenses, loss of salary and pay, punitive damages and/or other losses?

What should you do or say if the driver's attorneys or insurance adjusters start calling and/or want to make a settlement? Why do they want to settle so quickly?

Where should you start and how best can you handle it all to protect your rights and get maximum compensation for your injuries?

What if the drunk driver was driving without a license or without insurance?
We can answer all your questions. Contact us for a free no-obligation consultation.
We work hard to protect your rights and get you the maximum compensation you deserve.
If you were injured in a trucking accident, you can call me at (360) 695-0464 for a no-obligation consultation. Let us help you protect your rights and get the compensation you deserve.