Truck Accidents - Vancouver Personal Injury Lawyer
Personal injury claims for truck accidents can be complex, and an experienced professional persona injury lawyer will take into account that although an injury is debilitating it puts an enormous burden on the victim since there will be physical and emotional pain in addition to disruption to the victims everyday life and how he/she interacts with family members and friends. One thing that is not often talked about is how all previously planned and organized events or vacations just get instantly disrupted. Of course there is the biggest concern of all to victims and their families: loss of wages and the financial burden as a result of the accident.

If you have been in an accident and have experienced debilitating injuries, you must consciously try to reduce the negative impact on your life as much as possible and try not to fall into a depression mode. Make an effort to call friends and family members and talk about good times and try to do things that you have always enjoyed, for instance, play chess or video games or watch sports, whatever you have enjoyed previously and would regard as fun and entertaining.
While you are recovering, an experienced personal injury lawyer will do everything he/she can do to get the most compensation from your personal injury claim to make sure that your financial interests are protected and you can take care of yourself and your loved ones.
Hiring the right personal injury attorney to represent you protects your financial interests also reduces your emotional burden during these tough times and it is good to know that someone is watching over your interests and fighting to win you a large compensation for your injury claim.
Truck companies, their truck drivers, and their insurance companies work together
When there is an accident involving a truck, all the parties on the side of the truck company work together to strengthen their case. The truck driver meets with the insurance investigators and they all then meet the trucking company representatives, usually. They work together to shift liability towards others involved in the accident in order to avoid liability if they can. Unfortunately, while any motor vehicle accident can be serious, it is usually the driver and passengers of small vehicle and motorcycles that are often hurt much more severely and bear the brunt of the damage and loss when a commercial trucks are involved. A motorcycle or a small passenger car is no match against the size, weight and momentum of a box truck or a commercial 18-wheeler semi-truck with trailer. If you have been in an accident you will need to work with your experienced personal injury attorney, chiropractors, medical doctors, and any witnesses and work together to get the documents together and build your case to defend your rights to compensation for your injuries.
How do I prove who is at-fault for my injuries in an accident involving a truck?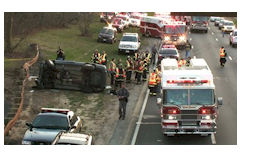 Trucking accidents are complex to investigate and analyze and determine who is at fault and where liability rests. It usually takes a team of investigators and experts working for or with an experienced personal injury lawyer to determine fault and establish liability.
An experienced personal injury attorney will re-construct the different aspects on the accident in a modelling computer or a sketch board to see where negligence can be proven. There are many different factors that need to be considered, such as:

Who are the parties that are involved, their previous driving records, any previous accidents, and factors related to them just prior to the accident. The trucking company, its history, previous claims and court rulings, and even their reputation for handling customers and deliveries. The truck manufacturers, any recalls, history of the specific type of truck and repair or faulty manufacturing components. And any other party involved or that may bear the responsibility for the accident.

In particular, a special attention needs to be devoted to the truck driver whereby an investigator can take a very close look at his/her driving record prior to the accident as well as training and length of driving experience and then same attention to be paid to his/her physical and mental state prior to the accident, was he driving under the influence (DUI/DWI) of alcohol or legal prescriptions drugs or illegal drugs. Was he/she tested at the time of the accident, what did the police report say regarding his/her behavior after the accident? All these are essential components to factor into the accident investigation.

The truck's and driver's logs describing time traveled before rest stops, speed of truck prior to accident, number of times the truck brakes were applied, etc. must be reviewed to confirm adherence to federal and state laws. Accident reconstruction model must try to take into account if there was driver fatigue as a result of long distances traveled or if the driver has been driving for days and weeks to meet a scheduled delivery as all of these conditions may have contributed to the cause of the trucking accident.

The truck records logs and records should show all the previous repair and maintenance schedules, vehicle reports of parts replacements, previous inspections, load and unloading records, and if possible, recent deliveries and vehicle testing.

And finally, the condition of the roadway, weather conditions, visibility, signs, lighting, and obstructions on the road need to be looked at to establish if they have contributed to the accident.
We work hard to protect your rights and get you the maximum compensation you deserve.
If you were injured in a trucking accident, you can call me at (360) 980-1105 for a no-obligation consultation. Let us help you protect your rights and get the compensation you deserve.
When It Comes To Personal Injury Settlement, Experience Counts.
Jim Sellers Law Firm has the experience and ability to effectively litigate your car and truck accident case in any Washington or Oregon court.