Truck Accident Portland OR Personal Injury Lawyer
If you are an injured victim of a truck accident and you want to make sure that you avoid making a costly mistake when claiming for compensation, you should seriously consider appointing an experienced professional personal injury attorney to represent your case since detailed knowledge of the complexities of truck accidents and the federal and state regulations is essential to making sure that you secure a win when filing claim for compensation.
Appointing an experienced personal injury attorney at a law firm that has experience in truck accidents and has a thorough understanding of the legal requirements involving your personal injury claim can be the difference between compensation and no compensation.
If you need an attorney, contact Mr. Sellers who is a highly professional personal injury attorney with 40+ years of experience. He can analyze the merits of you injury claims and will advise you of the best course of action for your case. Additionally, Mr. Sellers will answer all your questions and provide you with the expertise you need to understand your options. After consulting with Mr. Sellers, you will glad that your claim is being handled properly and professionally.
An accident involving a truck may involve multiple at-fault parties
When an accident occurs between a car (or pedestrian, bicycle, motorcycle, etc.) and a truck there is usually very serious injuries. Insurance companies will do all they can to deny liability or to blame other parties who may or may not also be responsible. This is another aspect of trucking accidents that makes settlement very difficult. Individuals who have been injury from an accident may need to consider multiple lawsuits with various parties (for instance, the truck driver's liability insurance, trucking company or truck leasing company, repair and maintenance shops, etc.) and this requires a highly experienced personal injury attorney with extensive trial experience to handle such a chase.
Mr. Sellers, at Sellers Law Firm is a highly professional trial attorney with 40+ years of experience dealing with personal injuries from accidents involving commercial trucks and he has extensive knowledge and years of handling complicated trucking accidents potentially with multiple liability. Mr. Sellers is a distinguished attorney with expertise in both federal and state laws governing specifics of trucking accidents and all the regulations pertaining to standards for safety. Most people would benefit from expert advice from Mr. Sellers regarding virtually any type of accidental injuries involving a commercial truck.
An accident involving a truck may have multiple injured parties
Unfortunately, it has become too common to see on the highways a commercial truck or semi-truck 18-wheeler (big rigs) to get into an accident and sideswipe cars or get jackknifed and involve multiple cars, each crashing into others. Especially in snow and icy roads, this kind of an accident can get very serious. In such cases, there can be multiple parties to blame and multiple injured victims which simply makes the case exponentially more difficult.
The at-fault parties can be the commercial trucking company, the drivers, the tire company, owner of the truck, the company that was employed to haul the goods, truck manufacturing companies who build the truck or the faulty parts, etc. This kind of accident would certainly need an experienced personal injury attorney with extensive knowledge of federal and state laws. Mr. Sellers, is licensed to practice law in Washington state and Oregon state, with local office covering Vancouver WA and Portland Oregon. Contact us to discuss your case. It is free with no obligation.
Commercial trucking is regulated by Federal and State mandates
Commercial trucks are regulated by special Federal and state safety law and these law are governed by the U.S. Department of Transportation, the Federal Motor Carrier Safety Administration, and various state departments of transportation which together set various regulation to govern the safety of trucks on our roads. The laws cover vehicle inspections, hours that truck drivers can driver before rest, and driver licensing for truck drivers.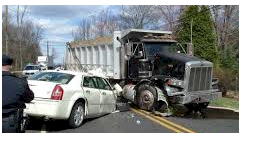 If you were in an accident that involved a truck, you should consider appointing an experienced truck injury accident attorney who know how to check all the different compliances mandated by the regulations to determine the full range of liabilities in a trucking accident. Also, an experienced personal injury attorney will investigate previous failures of adherences to compliance to ascertain fault and build a case against the trucking company.
We work hard to protect your rights and get you the maximum compensation you deserve.
If you were injured in a trucking accident, you can call me at (360) 980-1105 for a no-obligation consultation. Let us help you protect your rights and get the compensation you deserve.
When It Comes To Personal Injury Settlement, Experience Counts.
Jim Sellers Law Firm has the experience and ability to effectively litigate your car and truck accident case in any Washington or Oregon court.