Truck and Car Collision Personal Injury Attorney in Portland Oregon
If you are an injured party in an accident involving a truck, your immediate concern is your health and then you will be concerned with the financial burden of injuries, lost wages, and medical expenses. Right about then, you will be considering to use the services of a personal injury attorney who can handle the filing of a claim, negotiating an acceptable settlement, filing lawsuit if necessary, and defending your rights in court by a trial attorney.
Insurance companies make profit when they don't pay out for damages and they do all they can to reduce or eliminate their liability. They start their case by sending out insurance investigators to gather as much information as possible and to represent their interests, and protect their turf. It is often in the best interest of the insurance company to avoid delays that can exacerbate a claim with additional information or witnesses and hence they want settle your claim right away and avoid the costly hassle of a long process of legal battle.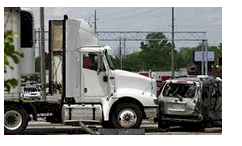 Insurance companies have learnt that they can always low-ball the first offer and if an injured victim is experiencing difficulties with their finances, they may just buckle under the pressure and access the low offer. Almost always, the first offer falls short of the amount you deserve. Insurance companies use the initial medical expenses as a guideline to set a figure for the first low offer and then gauge the reaction to see if they would have to increase their offer to cover lost wages, loss of future income, pain and suffering, and other expenses you may be entitled to. Insurance companies have become rich using all their tricks to deny compensation to injured victims of negligence.
If you are the victim of an accident involving a truckin, don't give trucking company or insurance investigators any statements or sign medical or other releases. Contact us to help you protect your rights.
Liability of trucking company or permit holders is assured by Federal Law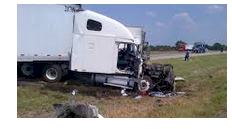 Before federal law stepped in with regulations, trucking companies would argue that liability in an accident involving a truck rests with the truck driver. They further cemented their case by requiring the truck drivers to become owner-operators in order to avoid any liability for the trucking company itself. Federal law stepped in and dislodged such a case defense by mandating the liability of permit held by the truck companies for all aspects of business operations by the trucking company, and that even includes the truck drivers who are independent. The trucking company can be held accountable even if the truck is driver by an owner-operator.
How do trucking companies protect themselves from liability?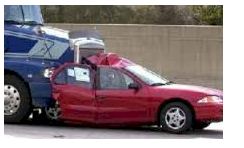 Trucking companies work with insurance companies to reduce or avoid their liability after an accident. Usually the first thing they do is to send investigators immediately to the scene of the accident to gather evidence to influence the outcome of the injury claim. This happens right when the injured victim is still dealing with his/her injuries and has no time to collect evidence. In cases of wrongful death accidents, the investigators spend enormous amount of time trying to find ways to avoid liability while the family of the victim are still grieving. Investigators representing the truck company will try to establish the following causes of accident:

Looking for passenger car's driver being DUI/DWI, or drinking or signs of use for either prescription drugs or illegal drugs

Looking to see if they can prove that the passenger car was driving in the truck's blind spot

Trying to see if there is any evidence of reckless driving by the passenger car driver

If the passenger car driver was passing unsafely or recklessly

If the passenger car driver was not obeying traffic laws, ignorning signs, following too closely, running a light or speeding
What damages will the trucking company or insurance company try to avoid paying for?

The first one on their list to deny or avoid, as much as possible, is pain and suffering

Lost of enjoyment of life

Disfigurement

Punitive damages, which usuall refer to damages to punish a trucking company that acts in an irresponsible way, or is dishonest or reckless

Double or triple damages, which refer to additional circumstances such as negligence or DWI/DUI, etc.

And finally, they try to avoid paying out for medical expenses and rehabilitation, nursing home care, loss of incom and loss of future income
We work hard to protect your rights and get you the maximum compensation you deserve.
If you were injured in a trucking accident, you can call me at (360) 980-1105 for a no-obligation consultation. Let us help you protect your rights and get the compensation you deserve.
When It Comes To Personal Injury Settlement, Experience Counts.
Jim Sellers Law Firm has the experience and ability to effectively litigate your car and truck accident case in any Washington or Oregon court.