Truck Injury - Accident Attorney Vancouver WA
If you are in an accident and are injured and you believe the other party was at fault, it is important to gather as much information as you can right from the start (of course, remembering that your physical health is the most important issue – and collecting information is only secondary after you have been examined by a physician or emergency services). The information you gather will be used by your personal injury attorney for maximum effect especially if you need to file a lawsuit and go to court to get compensation.
The information you should gather include: name, address, insurance information of the other party that you believe to be at-fault for the accident, as many photographs as you can take of the scene of the accident with your cell phone or a digital camera, recording of date, time, location, and description of the incident, and collect names, telephone numbers, and contact information of any witnesses.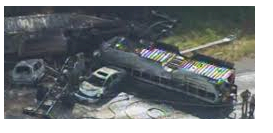 If you were seen by hospital staff, make sure that you keep a detailed record (get photocopies of treatments, if any) and ask if the hospital staff keeps a record of the care that was provided to you. The more information you are able to gather and compile, the better your chances are of winning an adequate compensation that covers all you expenses and addresses your lost income, now and in the future.
Special attention and handling is required in the case of a commercial truck accident
After an accident involving commercial trucks, Federal and state laws requires a certified truck inspector to inspect the truck before it is removed from the scene of the accident. And since many commercial trucks have computers and sensors recording information on various aspects of the truck, for instance speed, distance traveled since last stop, hours driven, speed of the vehicle before accident and at the time of accident, number of times the truck driver applied the brakes, etc. this information would be very helpful to the truck inspector at the scene and would also be valuable to the personal injury attorney who will represent the injured victim(s) of the accident. If you appoint Mr. Sellers to represent you, our immediate job would be to make sure we request this information as soon as possible before the trucking company decides to disposing this information using the argument of, 'ordinary course of business", excuse.
What evidence usually helps win a truck accident injury claim case?
One of the most critical aspects of winning a truck accident injury claim case is to introduce expert witnesses that can collaborate your case and clearly lay the blame with the party responsible for negligence. The experts will help the experienced personal injury attorney to reconstruct the accident scene to determine who is at fault and establish liability. These experts could include:

Federal, state, or other specialists in trucking safety and accident prevention

Forensic science technicians with truck accident experience (such as jackknifing)

Other experts in the fields of truck brakes, metallurgy, tire experts, and collision investigators

Truck accident reconstruction experts with extensive knowledge of roadways and sign and weather conditions

Computer graphics modeling specialists experienced with road accidents
We work hard to protect your rights and get you the maximum compensation you deserve.
If you were injured in a trucking accident, you can call me at (360) 980-1105 for a no-obligation consultation. Let us help you protect your rights and get the compensation you deserve.
When It Comes To Personal Injury Settlement, Experience Counts.
Jim Sellers Law Firm has the experience and ability to effectively litigate your car and truck accident case in any Washington or Oregon court.