Truck & Auto Accident Attorney Portland Oregon
The costs of an injury amount to more than just the medical expenses and lost wages. There could be that long term care is needed, and that some injuries (such as head or back injuries) take time to surface sometimes. Before settling quickly, you may want to consider that you may be entitled to more compensation, certainly to cover your future loss of income, long term care expenses, pain and suffering, and may be others.  If you expect an insurance company (and claim adjusters on their behalf) to volunteer to pay you the full amount of a fair compensation right away, then you will be disappointed.

Instead of accepting the first low-ball offer from an insurance company, simply appoint an experienced personal injury lawyer to negotiate on your behalf for full compensation that you may be entitled to. An experienced personal injury attorney can sometimes get you 200% to 300% what an insurance company will offer you initially. Instead of accepting the first offer you receive from an insurance company, allow us to avoid the hassle of evaluating a claim offer and negotiating directly with the insurance company.
If you have an experienced personal injury attorney to represent you, it can make all the difference in the final settlement amount for your injury claim. Don't make the mistake for settling for a low amount which is far less than what you deserve. We can help you recover an adquate and realistic compensation. You don't need the stress and the hassle of dealing with an insurance company and negotiating with their experts who are hired just to find a way to lower your compensation. If you hire Mr. Sellers to represent you in your claim, you will be confident that you are getting the most compensation for your injury claim.
How can we help?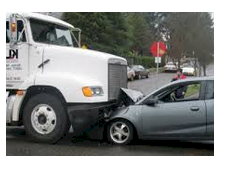 It you have been unfortunate and involved in a trucking accident, contact us to discuss your options. We can help you with the complicated federal and state laws surrounding accidental injuries sustained in truck accidents as well as liability, negligence, settlement, and compensation. No two accidents are identical and every case is somewhat unique on its own and you will need an experienced professional personal injury attorney to defend your rights and get you the compensation you deserve while insurance companies are working hard to deny you any compensation. Contact us today for a no-obligation consultation so we can work out how to protect your rights. Mr. Sellers is a distinguished and highly experienced personal injury attorney in Vancouver WA and Portland Oregon and surrounding areas.
Documenting an accident and gather evidence and witness information
List of resources that are available to you that will help you assess possible negligence, who may be at fault, and where liability may rest:

Police report for the accident and any indication of liability, roadway issues, weather conditions, etc.

Log books for the truck

Statements obtained from any witnesses or investigators

Statements obtained from any experts on roadways, trucks, truck parts and accessories, etc.

The truck driver's prior records, length of driving and experience, accident history, safety and driving records, and training and driving licenses

The safety records of the truck company and any prior cases of negligence

Evidence collected at the scene of the accident pointing to defects and failure of truck or truck parts/accessories
We work hard to protect your rights and get you the maximum compensation you deserve.
If you were injured in a trucking accident, you can call me at (360) 980-1105 for a no-obligation consultation. Let us help you protect your rights and get the compensation you deserve.
When It Comes To Personal Injury Settlement, Experience Counts.
Jim Sellers Law Firm has the experience and ability to effectively litigate your car and truck accident case in any Washington or Oregon court.